Have you always wanted to start investing but unfortunately, you don't know how to start? Many people who start investing have the same problem. Thankfully, technology is here to save the day. With eToro, you can earn money more efficiently, effectively, and almost automatically through copy trading. Well, that is if you copy the right person or you are the Popular Investor giving the signals.
The short answer to whether you can make money by copy trading, is: Yes.
The top 50 traders eToro has an average yearly profit of 29.1%*.

However, you have to make sure that you're following the right person so that your copied trades become successful. On a platform like eToro, you'll be able to see the traders' trading history and thereby choose a successful trader that you trust enough to copy.
But before we go into how you can make money, let us deep dive into what copy trading is.
What is Copy Trading?
Copy trading is a way of investing that copies the portfolio of another trader. Every time the investor opens an investment trade, the action will be copied to your portfolio automatically.
eToro has been a pioneering application in social trading for years. With over 5 million members, eToro's award-winning CopyTrade technology is one of the first copy trading platforms. eToro is also consistently ranked as one of the best. Instead of paying fund managers and hefty management fees, traders on eToro can leverage leading investor expertise. These are the reasons why our favorite pick to copy trading is eToro.
What are the ways you can earn money Copy Trading on eToro?
There are two ways that you can earn from Copy Trading on eToro: copying a Popular Investor portfolio or being the Popular Investor giving the trading signals to other traders.
Your capital is at risk. Other fees apply. For more information, visit etoro.com/trading/fees.
eToro USA LLC does not offer CFDs, only real Crypto assets available.
How to earn money on eToro Copy Trading as a Copy Trader
There are millions of active traders on the platform that Traders can follow. A Copy Trader's profit comes from each proportionate amount of money to the capital they have invested. The minimum amount required to copy a trader is $200, plus a minimum of $1 per each position.
How much can a Copy Trader earn on eToro?
The amount you can earn as a Copy Trader depends on the capital you have invested and how much you have allocated per trader.
When copy trading a Popular investor, traders get a percentage of the profit that the Popular Investor made off from the money invested. For example, if a trader invests $100 and the trade they copied earned 15%, then the trader will receive $15 in profit.
How to earn money on eToro Copy Trading as a Popular Investor
eToro lets prospective copy traders filter their portfolio of Popular Investors. Before choosing which trader to copy, you will have a chance to review their background. Some available information on eToro includes how many people have copied them, what they invest in, their returns in the last seven days, and risk assessments.
How To Qualify as Popular Investor on eToro
To be a Popular Investor on eToro is not just a simple application. It also takes a lot of consistency and monetary investment. eToro makes sure to vet casual investors from serious professionals through a stringent application process.
Here are the eToro qualifications for every Popular Investor:
Aspiring Popular Investors need to invest in at least $1000 equity on eToro with none of the equity allocated towards copying.
They should have at least 1 Copier on their public profile.
Popular Investors need a minimum AUM of $500.
They need to have at least two full months of statistics. The statistics need to have a relatively low-risk score with a maximum of 6 or below for at least two full months.
They need to verify their identity. Popular Investors also need to build their public persona with a trading bio that talks about their background and strategies with professional photos.
Within the last six months, the applicant should not have had a monthly drawdown of 20% or more.
They need to abide by the eToro leverage restrictions.
eToro makes sure that copy traders only get the best opinions available on the platform. They also make sure that those who do become Popular Investors are not only compensated well but also have a lot of opportunities to grow their network and sharpen their skills.
How much can a Popular Investor earn on eToro Copy Trading?
Being an eToro Popular Investor has a range of practical benefits. Depending on the level, Popular Investors do not have to pay withdrawal fees, have free subscriptions, access to online courses, and even personal account managers.
There are four levels of Popular Investors on eToro: Cadet, Champion, Elite, and Elite Pro.
Cadet level Popular Investors get paid either $400 per month or $800 if their AUM grew by 1% from the previous month.
Elite level Popular Investors get paid with 1.5% per month, or 2% of their AUM grew by 1% from the previous month.
Elite Pro Level Popular Investors get paid either 2% per month or 2.5% of their AUM grew by 1% from the previous month.
Additionally, eToro Popular Investors also have merchandise and exclusive event invitations to sports matches and conferences. They are also heavily featured by eToro on their various online platforms.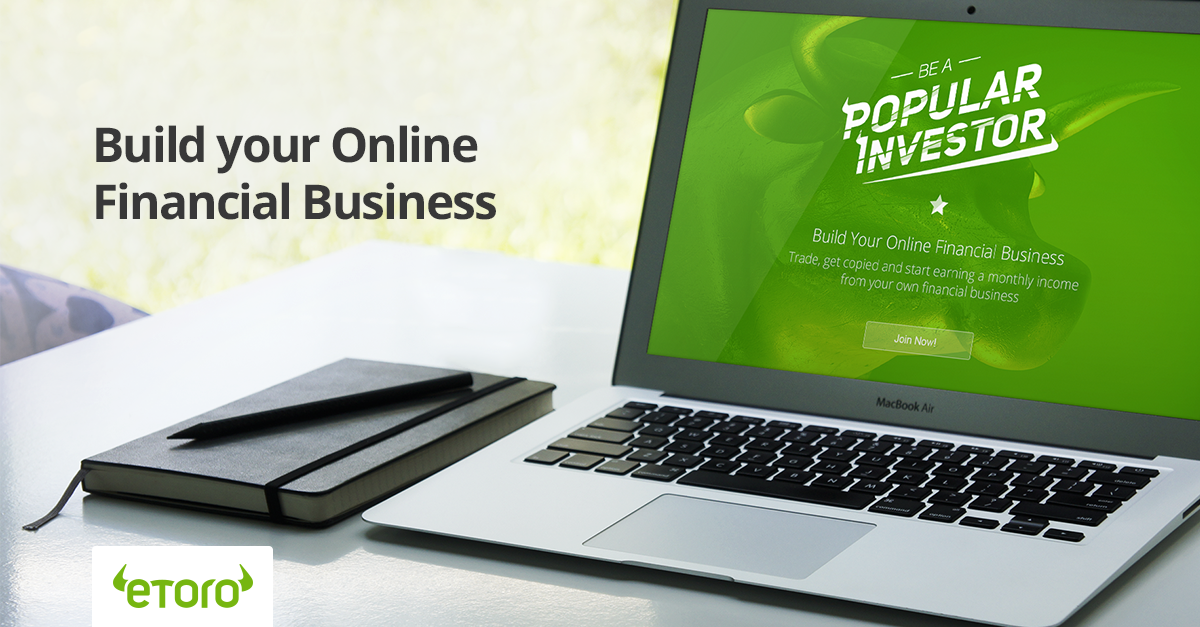 How to choose the right investor to copy on eToro to earn?
Finding the right trader to copy is a bit like dating – no one size fits all, and you need to look at your options before committing.
Here a few tips that you can follow to find the right trader for you:
Understand Your Risk Appetite
Never forget that everything starts with you. To manage your expectations about how much you expect to earn from Copy Trading, you must know how much you are willing to risk.
While eToro already rates its traders before making them a Popular Investor, the platform also has a range of tools such as filtering them by gain percentage, assets traded, location, and so on. Generally, the higher the risk rating means the trader is likely to use high leverage or trade with riskier markets. If this is not your trading style, it is better to find someone with a score of 4 or less.
Check for Red Flags
eToro does it best to sift out the bad traders, but occasionally some can slip the cracks by manipulating their stats. Some strange activities that you should watch out for include inactive social profiles and unclosed trades that are trending at a loss.
It is also good to check their drawdowns, which are the price differences between the high and low over time. While not all traders try to keep their drawdown low, it is often less risky.
Choose Multiple Traders
eToro lets its traders choose the amount they are willing to invest for every Popular Investor. You can copy more than one investor and diversify your trade strategy. One way to curtail risk is by splitting your investments between traders for different levels of risks.
Some traders may be best for long-term, low-risk investments. However, some will have the aptitude to occasionally spot an opportunity that may seem risky but can earn you a lot in a short amount of time. By having a mix of both worlds, you can steadily earn small amounts from low-risk investments while not missing out on the opportunity to earn from high-risk investments.
Diversify Traders
Sometimes, it is not enough to diversify per risk appetite. You can also diversify your market. Many traders will often specialize in the assets they trade. There are hundreds of different kinds of financial markets that you can invest in with on eToro.
Bear in mind that a great Forex trader might not be the best for cryptocurrencies. Each market will have its Popular Investors at the forefront. You should feel free to take your time and search them out.
Steps to Start Earning through Copy Trade with eToro
eToro makes it easy for both beginners and advanced traders to invest. In just four easy steps, you can be trading with expert advice without management fees.
Make an Account
Choose your Popular Investor
Decide how much to invest per Popular Investor
Monitor your investments
If you are confident in your trading skills, you can also want to benefit from the experience of sharing your trades through being a Popular Investor yourself.
How to manage risk when Copy Trading on eToro
While eToro's CopyTrader innovation is a step towards more friendly investing, it is still not risk-free. Like any investment, there is always a chance that even the most refined investors make mistakes. Whether it be an emotional decision or an effect of the volatile markets, eToro does not protect you from the losses.
Set a Stop Loss
If you do not want to drain your account from one bad trade, you can put a stop loss. While the amount everyone is willing to lose is different, it depends on the kind of capital you have invested.
A large capital might mean that you are willing to give your trades time to recover after a loss, or it can also mean that you are investing a lot so that you do not have to take n 0-on as much risk much to get a good return. Once set up, stop losses are automatic. One can also lose by keeping them too tight and not being able to take advantage of returns.
Take Advantage of Compound Interest
A good strategy for any investment is to take advantage of compound interest. While it may be tempting to withdraw your money right away after profit, using it to re-invest or diversify may churn out the higher value in the future.
Be Mindful with Leverage
In the right hands, leverage is a gift that keeps on giving. While eToro gives this option to everyone, it does not mean you always should. It multiplies what you do well, but also increase the effects of what you do wrong. In especially volatile markets such as cryptocurrencies, leverage can be dangerous and wipe out your wallet quickly.
Frequently Asked Questions on Copy Trading with eToro
How long does it take to copy trades to your eToro portfolio?
eToro lets you copy traders almost instantly. Often, less than a second after your Popular Trader opens a position, their action would reflect in your portfolio.
Can I copy trades from anyone?
Yes, you can. Because eToro is a social investing platform, you can copy trades from anyone as long as their account is public. However, they will not be as vetted compared to someone who is already part of the Popular Investor Program.
Are there any extra fees to Copy Trade on eToro?
While eToro does not charge any additional fees for copying Popular Investors, but traders still have to pay the applicable fees. Here are a few things that investors should expect to pay for when copy Trading:
Spread Fees
Currency Exchange Rates
Crypto Transfer Fees
Withdrawal Fees
Inactivity Fees

How long does it take to copy trades to your eToro portfolio?
eToro lets you copy traders almost instantly. Often, less than a second after your Popular Trader opens a position, their action would reflect in your portfolio.
Conclusion
While eToro is an innovative platform and does it best to democratize investing, it is good to remember that even Copy Trading is not a quick way to get rich. To get the highest returns, you have to either have large capital or take on higher risk.
Despite having 0% commission on stocks and no management fees, eToro makes money through several fees that range from spread fees, conversion fees, withdrawal fees, and even inactivity fees. You have to take this into account when computing your profit or planning your withdrawals.
While Popular Investors may be right for a good number of times, they are also still human beings who can make mistakes and make bad trades. eToro boasts that their 50 most copied investors earned a 29.1% year profit in 2019, but even not every month has been profitable for all of them.
No matter what platform you are using to Copy Trade, there is no such thing as risk-free investing. Many people will try to sell you the idea of Copy Trading being passive investing, but it is still not 100% hands-off. While eToro's Popular Investors may serve as guides, traders should always endeavor to hone their ability to assess risk and value, diversify to manage losses, and choose the right time to leverage.