IG is among the oldest brokers in the world with a history dating back to 1974. During that time, the company has been a pioneer in the financial markets and is now a household name. Decades after its launch, eToro was founded in 2007 in response to the growing retail FX market. It's hard to imagine that these two would ever go toe-to-toe, but it's a valid comparison. IG claims to have 178,000 clients worldwide while eToro boasts of over 3.5 million customers. Looking at these numbers, it is worth comparing the two brokers and seeing how they match up.
Forex regulation
This content is not intended for US users. eToro USA LLC does not offer CFDs, only real Crypto assets available.
eToro was first launched in Israel, but to achieve its goals, it had to create subsidiaries. Initially, the company received a license from CySEC that allowed the company to provide brokerage services in most countries around the world. Some jurisdictions like the UK and Australia with tougher regulations, though, demanded licensed from their regulators. To comply eToro created more subsidiaries in these locations and received licenses from both the FCA and ASIC.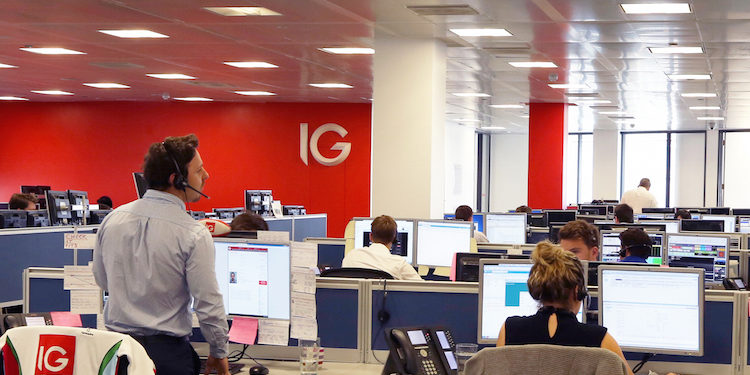 IG Group also has a global presence that had to be achieved in the same way. IG first started in the UK and is thus regulated by the FCA. Over the decades, the company spread around the world and now has 14 offices in different countries around the world. Some of these countries include South Africa, Australia, Tokyo, Singapore, Dubai, etc. In each of these locations, IG has always sought and received a license from the local regulator, meaning that IG is regulated by over 10 different regulators.
For the higher number of licenses, IG is the winner in terms of regulation and compliance.
Funding methods
The first step for every trader is always to make that initial deposit so they can start trading. This process is very simple with eToro as it allows you to make a deposit in many different ways. These include credit/debit cards, wire transfer, electronic wallets such as Skrill and PayPal, and local fund transfer methods such as China UnionPay for Chinese residents. Making a deposit is free on eToro, and there is no minimum except for first time traders who have to deposit USD 50. eToro charges a fixed withdrawal fee of $5 USD, Additionally, a conversion fee may be applied as withdrawals and deposits are conducted in USD. Any other currency will have to be converted.
On IG, deposits are also accepted through various avenues. Some of these avenues include credit/debit card, wire transfer, PayPal and a few local fund transfer methods such as BPay for Australian residents. Neither deposits nor withdrawals are free here. Here, the minimum deposit is USD 450 or equivalent in other currencies.
Given the limited funding methods, eToro is the winner in this category.
Assets available
Although these two brokers do not reveal the exact number of the assets that are available for trade, both have a huge variety. IG boasts of having over 16,000 markets ranging from Forex to stocks, indices, commodities, cryptocurrencies, bonds, options, interest rates, etc. eToro has an equally impressive list of assets similar to IG's offering. For this reason, it is difficult to choose between the two and identify a winner.
That being said, eToro emerges superior because the broker allows trading real assets when a trader foregoes leverage on stocks and cryptocurrencies.
Trading platforms
Retail traders on IG can enjoy using MetaTrader 4, which is the most popular trading platform and widely known and user-friendly. The broker also has L2 dealer, for sophisticated traders with different needs. Traders on the go can also use the web trader and downloadable apps for their mobile phones. Meanwhile, eToro clients only have the web trader and mobile apps to trade on. While both of these are very effective, it does lack the flexibility and variety provided by IG.
Overall winner
Unfortunately, these two brokers are tied in the end because they each have unique strengths and weaknesses. Your choice should, therefore, depend on your priorities based on the above aspects.